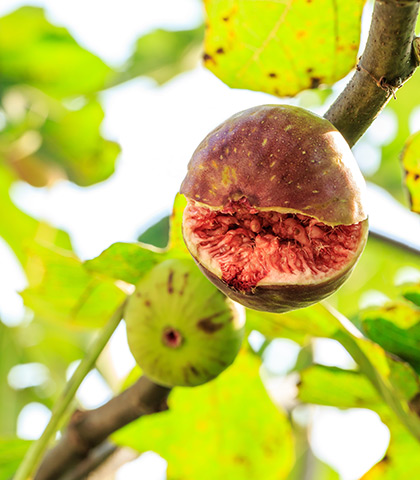 Fruit trees make good source of income, say businessmen
Mon, 23 Aug 2021
IN DAYS long gone, fig trees were seen as a collectable item and only a hobby for the elite.
Consisting of hundreds of different species from different parts of the world, each fig tree exhibits its own characteristics and uniqueness, which is what fig collectors are after.
Today, it is a different story.
Retired chief financial officer, Mohamed Yusuf Harun, began growing fig trees in his backyard in 2013 and today, he has 400 trees consisting of 100 different species.
"Growing fig is a good way to earn an income; in less than a year we recovered our capital and made profit," said Mohamed Yusuf, who focuses on producing marcots from his fig trees to be sold to other fig farmers or new fig growers.
He said that investing in one tree could lead one to produce another five trees.
"Fig trees can last for a very long time, and if you are really passionate about it, you can make money from it," said Mohamed Yusuf, whose Shanna Mimi Fig Farm is in Bukit Beruntung, Rawang.
More than just a tree
Mutiara Fig is a fig business run by a family of architects.
"This business initially started when my dad's fig collection matured and was filling up our backyard.
"After completing my studies overseas, I had suggested to my family that we take this fig tree planting to another level and start producing consumer products," said Aliyaa Suraiya Mohd Hilmi.
She said the name Mutiara Fig was inspired by the preciousness of the fruit.
"Figs are as precious as pearls, hence we call it Mutiara (which is the Malay word for pearl)," she explained.
Mutiara Fig currently has a 0.8ha fig farm in Kota Kemuning, Shah Alam, and offers a wide range of products that use fig as their main ingredients.
"We started to seriously engage in the fig business back in Septem-ber 2015 and the first three products we came up with were fig teas, fig relish and Sambal Bilis Fig.
"We received a lot of good feedback and support for those three products.
"As such, we felt encouraged to expand our range to include facial and bodycare products that use figs as the main ingredient," said Aliyaa, who runs the business with her elder sister Ilani Hana Masturah Mohd Hilmi.
"Fig trees are wonderful. The fruit itself contains many benefits and we can come up with so many products from it," said Ilani.
"Every part of the tree can be used in many ways and holds their own special properties.
"The fruit can be eaten fresh, dried and many other ways while the leaves can be dried to make tea," she said, adding that not only was the drink refreshing, the leaves contained properties that were believed to be good for health.
Mutiara Fig currently has about 2,000 fig trees managed by their brother, Mohamed Fariz, together with their father.
"Currently we have about 500 species of fig trees and each type carries its own characteristics," said Mohamed Fariz.
Utilising their background in architecture, the family designed a greenhouse that collects rainwater and use it to water their fig trees.
"Our greenhouse streams rainwater to specially built tanks and this water is used to water our fig trees," said Mohamed Fariz, revealing that the method could save them as much as the investment capital for their business in water bills.
"In the future, we plan to build more water tanks and we will also be upgrading our greenhouse," he said.
Commercialising fig fruit
Despite having been involved in the fig business for less than a year, Darren Tiong already loves all aspects of working with these trees.
"I started planting the trees at home as a hobby but looking at the amount of fruit that it can bear, I realise the potential for turning it into a business, which brings me to where I am today," said the building service consulting engineer.
He said fig trees were very fragile and needed delicate care, but with the correct method, it could provide up to 120 fruits per harvest and an adult tree could produce many saplings.
"There are many fig collectors but not many want to commercialise the fruit.
"This fig growing hobby can be turned into a big business and we can start providing our consumers with fresh locally grown figs.
"It will benefit both sides, the consumers and the farmers," Tiong pointed out, adding that fig trees were a miracle tree and the fruit should have been promoted a long time ago.
Coming from an engineering background, Tiong has proven that growing fig trees can be done by just about anyone as long as they have the interest and passion for it.
"Although fig trees are very delicate, with the right care, they can grow to more than 2.4m tall in only three months and will start bearing fruit.
"The fruits usually take another three months to ripen," he said.
He lets the fig trees grow naturally but place them in a greenhouse because they are sensitive to direct exposure to rainwater and can only grow well at a temperature of about 40 degrees Celsius.
With almost 1,000 trees from five different species at his farm, Tiong is currently working on another greenhouse at the Selangor Fruit Valley in Batu Arang.
With the current production, Tiong is able to supply to some big grocery stores such as Ben's Independent Grocer, Giant and various MBG outlets.
"In the future, I hope that all fig growers can unite and work together in promoting this fruit and hopefully one day, we will be able to export figs from Malaysia to other parts of the world," he added.
Source: https://www.thestar.com.my/metro/focus/2017/06/16/reaping-the-benefits-of-fig-fruit-trees-make-good-source-of-income-say-businessmen