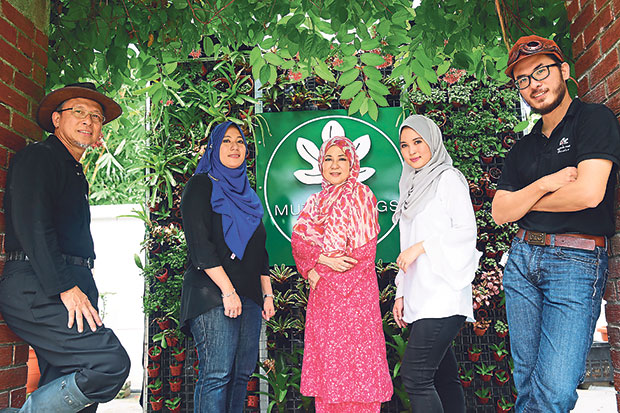 Mutiara Figs Garden: Exotic figs grown in Malaysia… no kidding!
Mon, 23 Aug 2021
Fancy biting into a just-ripened fresh fig plucked from your backyard? If you have harboured that crazy notion before, believe us, that is now possible.
In Malaysia, the figs we get are usually dried fruits or imported from Turkey, South Africa and Australia. Nowadays thanks to some planters, fig trees are thriving in our tropical weather. Even though fig farming is still in the infant stage, it's slowly gaining ground with many who are fascinated with this ancient plant, known in Malay as pokok tin, as it was mentioned in the Quran.
Not only does it taste divine, the fruit is also good for health. In Shah Alam, Mutiara Figs Garden run by a family of architects is exploring beyond eating the fig just as a fruit.
As architects, Mohd Hilmi bin Yusoff and his wife Faridah Hasni binti Ramli have had a keen interest in landscaping to beautify their own home in Shah Alam. As Mohd Hilmi says, "I love gardening. My late father trained me in gardening, as he had a lot of orchids." Another influence was world-renowned tropical garden designer Made Wijaya, whom they often meet when he visits Malaysia.
In the midst of researching plants, Mohd Hilmi discovered figs and its many varieties. He had once enjoyed fresh figs in the Middle East so he had first-hand experience of the fruit's sweetness.
Late last year, he got to know of Datuk Syed Elias who has a collection of 600 varieties of figs. He then managed to source for four plants at RM1,000 from a related source since Datuk Syed Elias was away.
"It is not a 3Ts plant — tanam, tunggu dan tuai (plant, wait and harvest)," explained Mohd Hilmi. A lot of care is needed to also ensure the medium for the plants is ideal, as it can die from overwatering.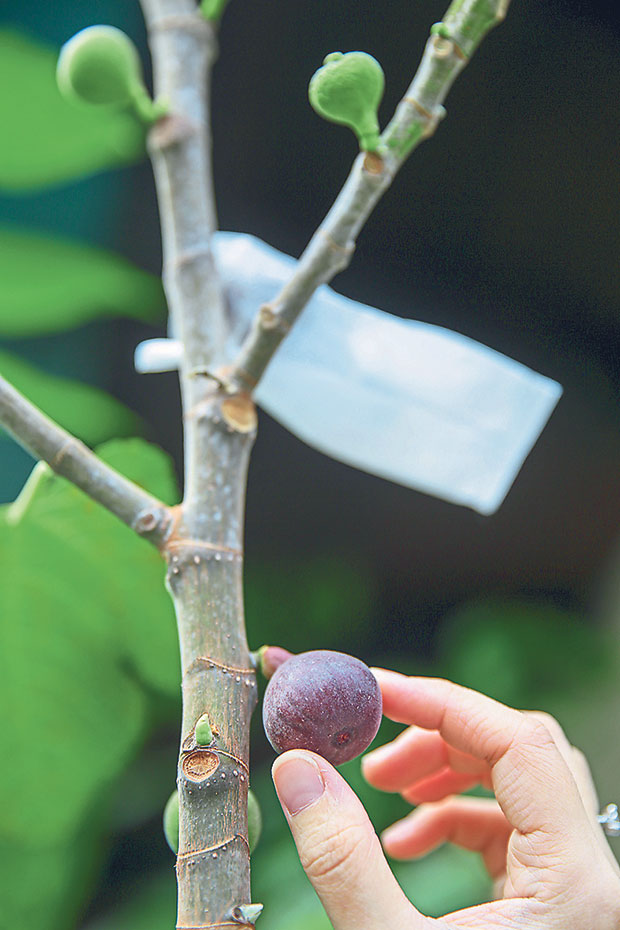 "Most are imported plants, so they need to get acclimatised. The soil needs to be very porous, otherwise the roots can get rotten easily. So we modify and experiment and mix with a lot of secret items to be porous and it needs to be watered three times a day," explained Mohamed Fariz, who helps his father with the plants.
Through trial and error, the trees started to bloom and after four months (late April), the trees started to fruit. It takes around one and half months for the fruits to ripen.
As they waited, Mohd Hilmi's three children — Aliyaa Suraiya, Ilani Hana Masturah and Mohamed Fariz — who are also architects, started to research what they planned to do with the fruits of their labour.
In August, they launched their fig leaf tea. After much research, the tea is produced in-house where it retains all the nutrients and benefits without destroying their own crop of fig trees.
Every week, the fresh fig leaves are plucked, the acidic sap is cleaned off and it is then dried to create the tea. Once brewed, the fig leaf tea has a light bright green hue with a pleasant nutty aroma akin to coconut. "If you drink this tea, it's smooth and easy going, not like the Japanese tea," said Mohd Hilmi.
Today Mutiara Figs Garden has a whopping 250 varieties in their newly-built greenhouse, hence the tea is a blend of these varieties that give it its distinct fragrance. "Each variety has a different taste," said Aliyaa.
The family prefers to package it in loose tea leaves since it is more natural. "It's best to have loose tea as you can see what you are drinking. If you put into teabags, you cannot appreciate the tea leaves," said Faridah.
After brewing it for 10 minutes, the tea leaves tend to settle at the bottom. According to Faridah, the tea is believed to reduce blood sugar levels, making it ideal for those who are suffering from diabetes. It's also good for weight control since it suppresses the appetite. Usually effects can be felt after two days of drinking the tea on a continuous basis.
Next, they came up with caramelised figs or what they call "the sinful food" since it's sweet. "When you take the sinful food, then you take the fig leaf tea, you will be okay," quipped Faridah. As Mohd Hilmi also elaborated, the caramelised figs are not all sinful since the fruit still has all the benefits.
Moreover, Mutiara Figs Gardens' visitors love it with ice cream and can eat two or three portions! The figs are cooked with brown sugar and spices to create a chunky spread that can be added on toast, waffles, ice cream, cheese, cereal or even salads.
"We looked into our market and what we think will work here. We did not go into fig jam but do caramelised figs since a lot of people do jam, as we want to be something different," said Mohd Hilmi.
Next, they came up with fig relish that is cooked with raisins, spices and ginger with sweet and slightly sour notes, as Ilani wanted a savoury combination. The relish can be eaten with biryani rice, steak, burger, tacos, cheese or just biscuits. Maybe in the future, a spicy version with cili padi will be produced.
Targeting the wedding hantaran or door gifts and corporate gifts market, Mutiara Figs Garden also launched a range of hand-dipped chocolate figs — a heavenly combination of tender sweet dried figs with ganache.
Two varieties are produced; one with dark chocolate that has 60 per cent cocoa mass and another with white chocolate.
Since parties are colour themed, you can also adjust the white chocolate dipped figs with a little food colouring to create pastel shades, like pink, blue or purple to match your colour scheme. "Our minds never stop thinking about what to produce… our tagline is all about figs," said Mohd Hilmi.
As the family's interest is in health and beauty, they have just launched their latest product, figs facial soap. "When I see the fig, I can feel, we can use the seeds to exfoliate the skin," explained Ilani. It took her time to source for a manufacturer since they wanted a minimal five tonnes order!
Now the facial soaps are made by a lady who runs her own homemade soap business. The figs are mixed with Trigona honey, propolis and seaweed collagen. The soaps come in two fragrances; peach and strawberry. According to Faridah, it has anti-ageing effects and it smoothes your face. Once you wash your face with the soap, it also helps to tighten the pores, making it easier to squeeze out any blackheads.
In the future, Mutiara Figs Garden plans to expand their range of products. "We enjoy it as it makes us think creatively what is good," explained Faridah. The family is also working with a master tea blender from South Africa to design a range of tea flavours, including some unusual blends using fruits and flowers. One idea borrowed from Thailand is the use of blue pea flowers to brew blue chai, a popular herbal drink that is believed to be good for your eyes or prevent eye diseases.
Going forward, Mohd Hilmi plans to expand in Kota Kemuning, where he will plant a whopping 3,000 fig plants. The place will also include a cafe for people to sample the fruits and their products. "We are looking not just as a plantation but we want it to be an educational centre for children," added Mohd Hilmi.
He also has lofty ambitions to organise the industry to become a farmer's collective. "I am forming a society so all the small and big plantations will come under one roof so we can collect all that fruits and sell together as one to say, Jaya Grocer, as they want a lot."
Who knows… maybe in the future, we will be dining on a daily diet of fresh sweet tasting figs grown in Malaysia. Exporting the fruits around the world is even a possibility since it's not restricted to seasons and available all year round.
Planters around Malaysia have also developed special hybrids through grafting to create the Jumbo Modified Brown Turkey and Super Red. The bright red figs from the Super Red variety are unique to Malaysia, since it's an effect of our weather.
Source: https://www.malaymail.com/news/life/2015/12/06/mutiara-figs-garden-exotic-figs-grown-in-malaysia…-no-kidding/1017887