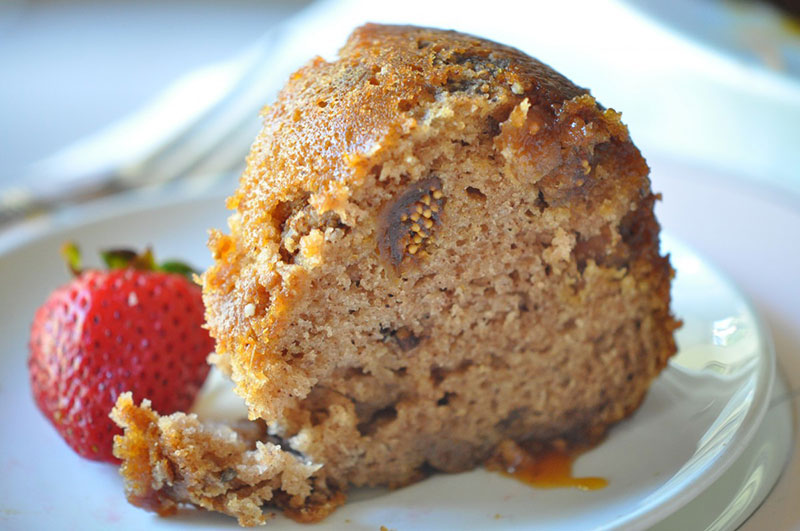 Fresh Fig Cake
Tue, 20 Nov 2018
Now, if you are one of those that turn up your nose to fresh figs, this Fresh Fig Cake will instantly change your mind.
Servings: 20
---
Ingredients
1/3 cup canola oil
1 1/2 cups sugar
1 teaspoon vanilla extract
2 eggs
1 egg white
2 cups all-purpose flour
1 teaspoon baking soda
1 1/2 teaspoons ground cinnamon
1 cup buttermilk
1 cup coarsely chopped fresh figs stems removed
1/2 cup chopped pecans
Glaze
---
Preparation
Preheat oven 350°F. Coat Bundt pan with nonstick cooking spray.
In mixing bowl, cream oil, sugar, and vanilla. Add eggs and egg white, one at a time, beating well after each addition until creamy.
In small bowl, combine flour, baking soda, and cinnamon. Add flour mixture to sugar mixture, alternating with buttermilk and ending with flour. Beat after each addition.
Stir in figs and pecans. Bake 40-45 minutes, until top springs back when touched. Then, let cake cool 10 minutes and then invert onto serving plate. Next, pour Glaze (recipe follows) over hot cake.
---
Glaze
Ingredients
1/4 cup sugar
2 teaspoons light corn syrup
1 tablespoon butter
1/4 cup buttermilk
1/4 teaspoon baking soda
1/2 teaspoon vanilla extract
---
Preparation
In small nonstick pot, combine all ingredients except vanilla and bring to boil 4 minutes over medium heat, stirring constantly. Add vanilla and pour over hot cake.