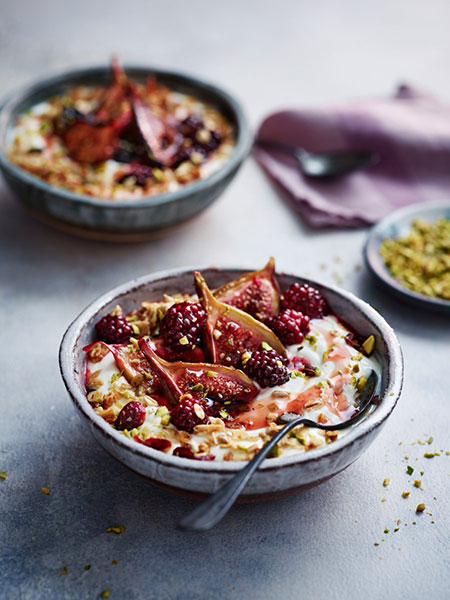 Sticky Cinnamon Fig & Yoghurt Breakfast Bowls
Tue, 20 Nov 2018
A perfect autumnal start to the day for weekends and weekdays alike. Enjoy the roasted fruit warm from the oven against the cold, creamy yoghurt and crunchy granola, or prep ahead for an easy-to-assemble breakfast on the go.
Serves: 4
Cooks in: 20 minutes
Difficulty: Not too tricky
---
Ingredients
8 ripe figs
¼ teaspoon cinnamon
4 tablespoons fresh unsweetened orange juice
4 tablespoons runny honey
150 g blackberries
600 g Greek yoghurt
4 tablespoons granola
2 tabelspoons unsalted pistachio nuts
---
Preparation
Preheat the oven to 200ºC/400ºF/gas 6.
Halve the figs and arrange cut-side up on a lined non-stick baking tray, so that they fit snugly.
In a small bowl, whisk the cinnamon, orange juice and honey until combined, then spoon over the figs. Roast in the oven for 15 minutes, or until tender and sticky.
Scatter the blackberries over the figs and return to the oven for a final 2 to 3 minutes.
Divide the yoghurt between four breakfast pots or bowls. Top with the roasted fruit, reserving the juices in the tray.
Scatter the granola and pistachios over the pots and drizzle with the reserved juices to finish.