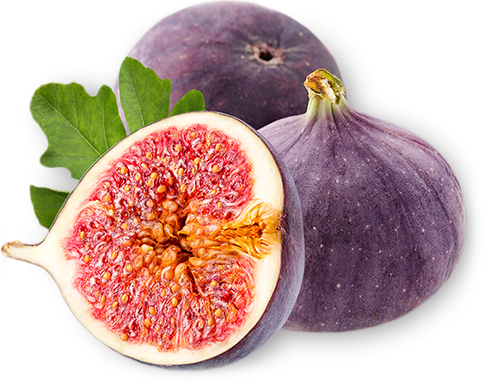 The Health Benefits of Figs
Fri, 25 Jan 2019
You've probably gathered by now that I think these little beauties are pretty amazing, but if you still need convincing here are a few good reasons you should start falling for figs too.
By the way, the nutritional profile of figs actually improves when they've been dried, but don't let that put you off of fresh figs; both are amazing and contain lots of healthful antioxidants which can help your body help itself. Just remember, moderation is important because of the high levels of fructose.
Here some of the main health benefits of figs:
Natural prebiotics
Figs are great providers of natural prebiotics which can help promote the growth of beneficial microorginisms already found within the digestive tract, which in turn improves your gut flora and overall health and wellbeing. Prebiotics are also thought to help the body combat invading pathogens, which may reduce the chances of bowel infections.
Better insulin regulation
Like dates, figs are high in both magnesium and potassium. This makes them great at controlling insulin levels within the body, which may help lower the risk of contracting diabetes.
Glorious hair
Ever wondered why so many hair care products contain fig extracts? Well, figs are full of beneficial nutrients (vitamin C, copper, zinc, and magnesium) that can actually stem hair loss, promote hair growth, and help rehydrate your locks, too.
Fabulous skin, too
Rich in antioxidants, figs can help rid the body of toxins that may adversely affect the condition of your skin. Similarly, their high fiber content will also help your body detox itself naturally.
Calcium kings
Figs are an amazing plant-based way to get more calcium into your diet. Just an ounce of dried figs can give you around 5% of your recommended daily value. Just one single solitary dried fig will nearly match the calcium levels found in an egg!
Easy estrogen buster
Having too much estrogen in our bodies is not a good thing, but figs can help. They are one of the best estrogen inhibiting foods you can eat, so if you've been told by your doctor that your levels are a little high, a few figs a day could help rebalance your body and improve your wellness.
Potential cancer fighting properties
While there's still more research to be done, many scientists are excited by the cancer fighting properties found within figs. One study has found that certain elements found within Ficus carica are actually toxic to a number of cancer cell lines found in humans. Here's hoping further studies lead us to a better understanding of the disease and a future cure.
Figs
Serving Size: 40g
Amounts Per Serving
% Daily Value
Calories
30
Calories from Fat
0
Total Fat 0g
0%
Saturated Fat 0g
0%
Cholesterol 0mg
0%
Sodium 0mg
0%
Total Carbohydrate 7g
2%
Dietary Fiber 1g
4%
Sugars 3g
Protein 0g
Vitamin A
2%
Vitamin C
2%
Calcium
2%
Iron
0%
* Percent Daily Values are based on a 2,000 calorie diet.
Varieties
There are hundreds of fig varieties but the following are most commonly found in today's markets.
Whether fresh or dried, figs contain powerful antioxidants that neutralize free radicals in your body and help fight disease. 13 Figs also supply healthy amounts of dietary fiber, which keeps your digestive system regulated and may have a positive effect on weight management.
Figs Nutrition Facts
Serving Size: 3.5 ounces (100 grams), raw
 
Amt. Per
Serving
% Daily
Value*
Calories
74
Calories from Fat
3
Total Fat
0 g
0%
Saturated Fat
0 g
0 %
Trans Fat
Cholesterol
0 mg
0%
Sodium
1 mg
0%
Total Carbohydrates
19 g
6%
Dietary Fiber
3 g
12%
Sugar
16 g
Protein
1 g
Vitamin A 3%
Vitamin C
3%
Calcium 4%
Iron
2%
*Percent Daily Values are based on a 2,000 calorie diet. Your daily values may be higher or lower depending on your calorie needs
Summary
A fig is a succulent little fruit with blooms and seeds inside its fleshy skin, and is very nutritious. While it's rich in natural sugar, it also has the distinction of containing just as much calcium, fiber and antioxidants as any plant-based food.
Each fig also provides just the right amounts of the nutrients magnesium, manganese, calcium, copper, potassium, folate, vitamin K and vitamin A. Together, these compounds have the capacity to regulate blood sugar levels, reduce the risk of cancer (specifically postmenopausal breast cancer), and manage blood pressure levels, to name a few.
Dried figs contain even greater nutritional value than fresh ones, making them perfect for ancient or modern nomads. While it's important to monitor the amount you consume due to their sugar content, chopped dried figs would make a great addition to a Greek salad, including fennel and spinach leaves, arugula and shaved Parmesan cheese.