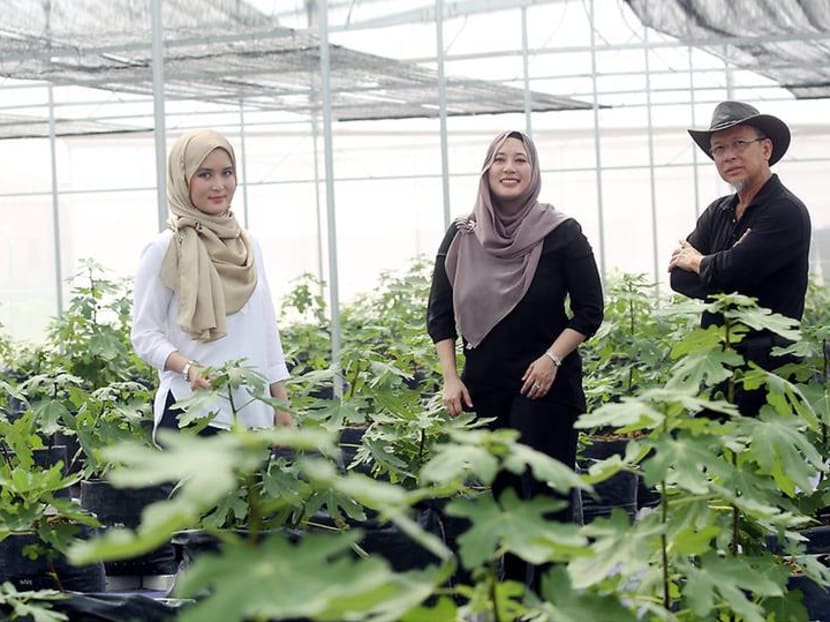 Meet the family of architects growing figs in the Selangor suburbs
Mon, 23 Aug 2021
Figs are among the oldest fruits to be cultivated and consumed by humans, with a history dating back almost 12,000 years. Found in abundance in Mediterranean climates, suburban Shah Alam in the Klang Valley is the least likely place one might expect to find over 300 varieties of fig trees.
Yet it is here that you'll find Mutiara Figs, which was established four years ago by Mohd Hilmi bin Yusoff, 65 and Faridah Hasni binti Ramli, 65, and their three children Aliyaa Suraiya, 30, Ilani Hana Masturah, 36 and Mohamed Fariz, 40. Together, the family also runs Hilmi Faridah Architects, specialising in residential projects.
"My dad started growing fig trees in 2015 so that he would have enough fruits for my mother to eat daily as they are packed with health benefits, especially for ladies. His fig collection was soon filling up our backyard and we were producing more fruit than we could consume," recalled Aliyaa.
Around this time, Aliyaa, who had just completed her Masters in Architecture from RMIT University in Melbourne, suggested that the family take her dad's hobby to another level. Mutiara Figs was born.
Inspired by the preciousness of the fruit, "mutiara" means "pearl" in Malay and relates to their tag line, "a pearl of health hidden in a fruit". Today, Mutiara Figs grows the fig trees divided in varieties of black, red, yellow and green in a greenhouse on two acres of land in Shah Alam, about a 40-minute drive from Kuala Lumpur.
While Aliyaa readily admits that figs are a challenging crop – especially since they are not indigenous to the tropical climate, her father has implemented a crop rotation system so that the trees fruit all year round.
In fact, the family harvests them every day except during the rainy season when the trees fruit less. Mutiara Figs also practise sustainable farming which includes rainwater harvesting.
"All our plants are planted in a controlled environment – in the greenhouse, we use an automated irrigation and fertigation system, and control the air circulation and humidity. Our farm is pesticide-free and we have already received a certificate from our government, myGAP, for good agricultural practice," explained Aliyaa.
No surprise, then, that their produce is highly sought after by 5-star hotels and fine dining restaurants in the Klang Valley. Among them, the Four Seasons, W Hotels, Entier fine dining and Troika Sky Dining.
Their fresh figs currently only ship within the Klang Valley, although there are plans to ship to Penang, Johor Bahru and Singapore once shipping restrictions brought on by COVID-19 ease up.
To supplement the fresh fruit and add to brand awareness, Mutiara Figs has an extensive product line, the brainchild of Aliyaa and her sister, Ilani.
"Our first product was fig leaf tea as fig leaves are good for diabetes and high blood pressure. We then expanded to fig jam and fig sambal. We know Asians love sambal so we replaced tomatoes with figs and used less sugar, so it's healthier. Sambal Hijau Fig and Fresh Fig Jam are now our bestsellers. Our skincare line, which leverages on the fruit's natural antioxidant qualities, has also been well received," she enthused.
However, their business was not spared during the pandemic when orders for fresh figs from hotels and restaurants stopped. Left with an excess of fruit, the sisters put their thinking caps on and decided to bake.
"We started to make desserts with the fresh figs and soon our business grew by word of mouth. During the Movement Control Ordinance, we offered delivery and received a lot of orders, with customers not just ordering for themselves but also to send to their parents, relatives and friends. Now we have three varieties which are heavenly fig dessert, dreamy fig crumble and fig tartlets," stated Aliyaa.
As the family weathers the ups and downs that business brings, Aliyaa reveals that being a family unit is a great advantage.
"We always work together as a family, from architecture to the food business. We love working together as we like to discuss everything whether it's problems, or new ideas and opinions, even during our mealtimes," she said.
However, Aliyaa also noted that one of the challenges of running a family business is that their growth is limited without external investors and shareholders, although this may change as the business expands.
The family still practice architecture – Mutiara Figs was originally a side project – but with housing developments having slowed to a trickle because of the pandemic, the latter is set to become their main source of income.
"We always work together as a family, from architecture to the food business. We love working together as we like to discuss everything whether it's problems, or new ideas and opinions." – Aliyaa Suraiya
In the meantime, the fact that the whole family have architectural backgrounds is a plus point, especially from the creativity aspect.
"Being a family of architects allows us to apply our collective creativity in our business. We do our graphic design ourselves and derive great satisfaction from it. From our logo and pamphlets to our stickers and social media marketing, we do our design in-house (literally)," she laughed.
"Besides that, we think creatively by designing our downstream products to be more innovative, delicious and attractive to customers. We also design our own corporate hampers and gift boxes during festive seasons."
While Aliyaa's father's domain is the agricultural aspect and her mother takes care of all matters to do with QAQC (Quality Assurance Quality Control), Aliyaa and her siblings are more involved in the business side of things.
Nonetheless, she is quick to cite her parents as inspiration as they have always encouraged the siblings to venture into business.
"We advise other young entrepreneurs to venture into things that they love and enjoy doing most, that's how your business will grow and bloom. Focus on product/brand awareness to make sure people know about the existence of your business," advised Aliyaa.
Indeed. Even though Mutiara Figs is a business, part of the reason why the family has been so successful is because they enjoy what they do and are deeply convinced that consuming figs can improve one's life.
This is evident in Aliyaa's hopes for the company.
"Mutiara Figs is looking forward to producing something that can help the community in terms of health supplements, since figs themselves have a lot of health benefits that are beneficial to everyone," she explained.
"This is a priority for us and we are currently in the midst of research. Ultimately though, we hope to be known internationally, not only in the food industry but also in the pharmaceutical industry."
"We advise other young entrepreneurs to venture into things that they love and enjoy doing most, that's how your business will grow and bloom."
– Aliyaa Suraiya
Source: https://cnaluxury.channelnewsasia.com/people/selangor-family-business-mutiara-figs-malaysia-184416