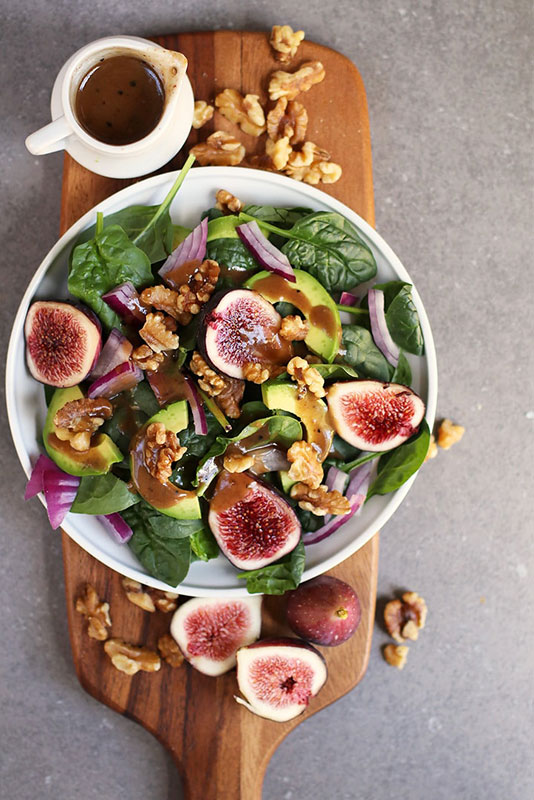 Spinach Fig Salad with Balsamic Vinaigrette
Tue, 20 Nov 2018
This Spinach Fig Salad is made with fresh figs, avocado, toasted walnuts, and homemade balsamic vinaigrette for a delicious fall salad that will fill you up.
Prep Time: 10 mins
Cook Time: 5 mins
Total Time: 15 mins
---
Ingredients
Fig Spinach Salad
2 large handfuls fresh spinach
4 figs cut in half
1 small avocado pitted and sliced
⅓ cup walnuts
¼ cup red onions chopped
Balsamic Vinaigrette
½ cup extra-virgin olive oil
¼ cup balsamic vinegar
1-2 cloves garlic minced
1 tablespoon dijon mustard
1 teaspoon maple syrup
salt and pepper to taste
---
Preparation
In a small blender, combine the ingredients for the Balsamic Vinaigrette and set aside.
Roast the walnuts at 400 degrees for 5-7 minutes, until lightly brown. Remove from oven and let cool.
Divide spinach between two plates and top with the remaining salad ingredients. Serve immediately with Balsamic Vinaigrette.
Notes
This recipe will make more balsamic vinaigrette than needed. The rest can be stored in an airtight container in the refrigerator for up to 2 weeks.